What We Do
A Long-term Vision:
Change The Roof Game
Luck Roofing is a family owned business established by Michael Overzat. It started out as an idea to create unforgettable brand recognition within the roofing community.
Steve Jobs created Apple with the vision of 'Eating the Forbidden fruit' in the Garden of Eden, an easily recognizable symbolism that fully captures the simplicity and elegance of Apple products.
Perfect branding added with great products created the perfect storm in order for Steve Job's to create the easiest recognized brand in the world.
The entire foundation of what Luck Roofing stands for is a simplistic roof replacement process in which homeowners are very fortunate and lucky in order to have chosen us as their contractor.
Michael Overzat started Luck Roofing after many years of storm chasing with sub-par contractors, handling claims through the insurance process, project managing for homeowners in order to restore their exterior needs whether that was in a major hail storm or from huge hurricanes that totally upended their lives.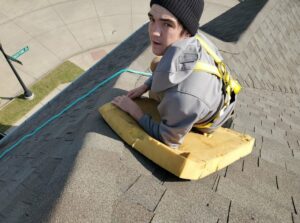 This is why Luck Roofing is perfectly equipped to handle roof jobs for homeowners in Arkansas, Oklahoma, and Texas (eventually with the plan for Luck Roofing to go nationwide).
Our plan is to start small, locally on a case by case basis customized to the homeowner's specific wants and needs with the eventual vision of going nationwide!
Overzat has worked for local companies and multiple big name storm chaser contractors as well as himself in the Dallas, Fort Worth areas  under the LLC of DFW Roof Claims.
Never has Overzat did a job that did not turn out successful, even if there were initial issues with the insurance claim process or during the building phase that weren't eventually resolved with the homeowner happy with the finished product.
Integrity is our mission.
Too many roofing contractors have shady business practices, whether that's during the sales process, claim process, or actually building of the roof.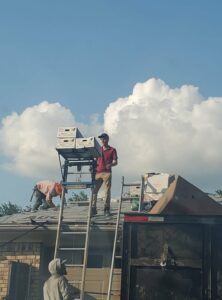 This frustrated Michael Overzat and led to him to being very unsatisfied and upset with the roofing industry as a whole for allowing this sort of behavior.
The mindset of many roofing contractors is to turn-and-burn claims, squeezing every dollar out of the homeowner or insurance company in order to turn profits.
Our motto is "PEOPLE ABOVE PROFITS."
Paper contractors (the name that's been coined for these sort of companies) care only about selling the roof and collecting the money. They really do not care about quality control, professionalism, moral ethics, or long term vision.
It is a transactional approach to the sales and longterm vision of a roofing company.
Most of these contractors are still stuck in the 1990s- early 2000s approach to roofing.
Outdated processes. Lack of concern for homeowners' true needs over time. Poor workmanship.
These are just a few of the problems plaguing the roofing industry.
Most of the big named companies (whether commercial or residential) hire inexperienced 1099 sales representatives through mass marketing campaigns. These 1099 independent contractors are given a shirt, some contracts, and told to 'go out and sell.'
The biggest complaint from insurance adjusters meeting with roofing companies is the inexperienced sales person who represents the roofing company claiming damage that either does not exist or is so minimal that it wouldn't even make sense for the homeowner to file a roof claim in the first place.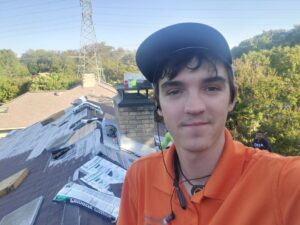 Add in the deregulation of the roofing industry in many states, it is a giant receipt for disaster. In Texas, a person needs a license to cut hair but not build roofs.
Hence, the mass amount of media articles/stories about fly-by-night contractors who fraud homeowners or insurance companies out of millions of dollars.
But even at the top of the game, the big name companies follow the same formula, mimicking their predecessors before them that started the storm chasing industry in the 90s-early 2000s.
Some are better than others at playing the rip-off game.
It doesn't make them any different. They are simply fraudsters at a bigger scale.
Overzat promises to fix that.
What is sad is in commercial roofing (when the financial stakes are higher) this level of incompetence is even larger.
For example, there are only a handful of standardized roofing apprenticeships that are beginning to pop up due to the efforts of the NRCA to standardized requirements for roofers within the industry.
See the article about 'the number one reason why flat roofs fail' to see just how bad this is across the commercial industry also.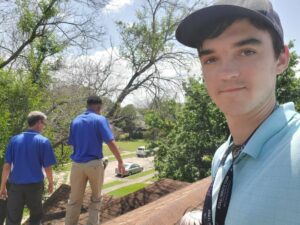 It's not only effecting homeowners. It is hurting commercial property owners/investors who get suckered into working with a 1099 sales reps who doesn't know a lick about quality roofing systems or even care to design or see the project through.
With low slope roof systems (under 1/4th pitch), the problem of poor workmanship becomes more exacerbated because the roof systems are way more complicated at the component level (see article), mainly because it is much harder for a low slope roof system to shed water.
With that said, Luck roofing does not claim to be perfect, that there aren't jobs that might have some technical difficulties throughout the process. But we do promise to do our best and have a level of comprehension and certainty that few other contractors will give you today and long into the future.
Whether it is a residential roof for a family of 4 or it is a retail complex with a giant flat roof, we are going to serve you with a level  of integrity unmatched within the industry.
If there are mistakes or issues, we will work to fix them and satisfy your needs now and into the future.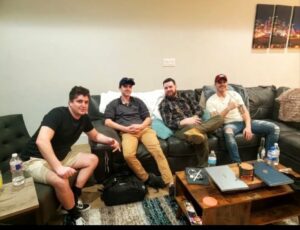 We are here to change the roof game and out-class other contractors within the industry in order to create a brand that is easily recognizable as a go-to source for trustworthy and honest roofing pros who have the clients best interest in mind.
If given the opportunity to work with you on your roof, we will be very attentive to detail throughout the process. We are very receptive to feedback and will listen to your wants and needs so that you feel fully satisfied with our services. We look forward to meeting you soon and becoming a trusted source for your roofing needs. 
WORKING PEOPLE
We Always Work With
Energetic Team