Founded in 1956, Malarkey shingle is a one-of-a-kind roofing manufacturer that has a unique history of sustainable innovation that is quite unlike any major brand today. Malarkey shingles are not manufactured to the volume that other shingle companies are with just three plants in California, Oklahoma, and Oregon. Nevertheless, they are known for their superior quality yet earth-friendly shingle that has revolutionary technology that can even remove smog from the environment.
If a homeowner installs Malarkey, it is equivalent to removing 5 rubber tires and 3200 plastic bottles from landfills as well as fights emissions as if two full size trees were planted.
As of today by incorporating upcycled rubber, 4.5 million tires, 3.1 billion bottles, and the equivalent of 1 million trees have been planted by use of Malarkey shingles across the United States.
Rather impressive!
Sustainability is not something that is often discussed in the roofing community, but Malarkey really does stand out in their long term vision of making the earth a cleaner more renewable ecosystem.
With the amount of roof replacements each year, there is an enormous opportunity to be able to leave a lasting impact in the environment that other manufacturers simply never endeavored to do.
Dallas/Fort Worth shingle mountain is a great example of what happens when disposed shingles don't break down and a massive volume wind up in landfills nearby cities causing huge environmental impacts.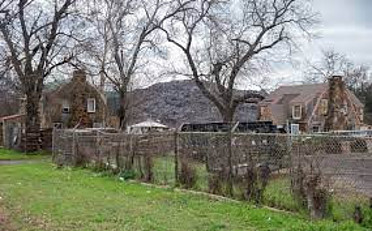 So the question naturally begs to ask, "How do they hold up compared with other shingles?"
The two conflicting ideas of an easily upcycled shingle along with the longevity of that very shingle as a roofing product being exposed to wide spanning temperature/ weather fluctuations seem like polar opposites for a successful design process.
But here is their history:
Michael O. Malarkey became president of the company in 1975 and they were one of the very first manufacturers to implement fiberglass matting in what is now commonplace in today's asphalt shingles. This was a huge breakthrough in shingle technology as fiberglass was more durable than traditional paper base.
Michael helped develop the first SBS base sheet, as well as fire retardant SBS system for commercial roof systems in the west where wood decks are commonplace.
Building on one success after another, the next major breakthrough was the first SBS modified shingle, the Alaskan.
Most of these innovations have become industry standard.
In 2006, Michael was awarded the outstanding service award from the WSRCA for introducing larger mail zones on shingles, to promote better installation. Yet another norm quickly improving the shingle industry as a whole.1
Today, Malarkey has grown to over 400 employees with a national reach that is growing yearly.
The founder, Herbert Malarkey, was quoted saying
"We will value fair and honest dealings with our customers, will commit ourselves to the highest quality standards, and will take care of the communities in which we operate."

One of the main reasons Malarkey stands the test of time is their development of NEX® Polymer Modified (Rubberized) Asphalt. It is cleaner to manufacturer than oxidized asphalt while also having unique toenail strength, elasticity, tear prevention, and better granular adhesion.
SBS shingles have polymer mixed into the shingle, think rubber and plastic mixed in. This groundbreaking technology doesn't breakdown the same way standard shingles do but can be easily upcycled back into other products instead of winding up in a landfill.
For example, car tires are made to withstand all sorts of weather contentions. Similarly, SBS polymer shingles do as well.
Traditional asphalt shingles use extreme heat during the oxidation process which results in a shingle that cracks and is brittle like an overcooked cookie.
Instead, with SBS shingles, the fiberglass core is hardened and can withstand mother nature's test-of-time.
Thermocycling occurs when shingles expand and contract through heat, thaw and cool, freeze cycles. Tradition oxidized asphalt shingles turn brittle and crack while SBS retain their longevity.
As far as granular retention, malarkey shingles have 65% better granular retention ( according to ASTM D3462 Standards) as thermocycling occurs and the SBS asphalt holds its natural suppleness and flexibility while also gripping and re-gripping the granules through these temperature cycles.
Granules are what protects the asphalt base from UV exposure and premature deterioration. As granules come off the roof looses its ability to shed water and the asphalt looses its strength.
What's also interesting is Malarkey shingles can be hit with wind uplift from large storms—bend not break—and actually reseal after the shingle lays back down. Malarkey has up to 30% greater tear strength than the industry standard asphalt shingle specification (ASTM D3462).
As far as hail damage, Malarkey shingles can actually bounce off large hail and disperse the impact shock better because of the SBS core. Malarkey's Vista®, Legacy™, and Windsor® shingles are Class 3 and Class 4 rated (highest rating possible) . These shingles can even warrant premium discounts from insurance carriers.
It could be argued that all shingles should move in the direction of SBS polymer exclusion as it would reduce liabilities for carriers and homeowners alike.
Malarkey has a handful of shingle products that they offer which are all SBS polymer infused.
They include as follows:
Architectural Shingles:
This is the first ever entry level shingle that includes the polymer rubberized technology that can be purchased on a budget. It also includes a 2x larger nail area. A normal roof can take up to 6000 nails to build, and even one out of place could void a wind warranty and cause leaks. This larger nail zones helps workers keep a good work pace but also make sure they are creating nail pops by missing the nail line.
Highlander can take up to 130mph wind rating, and includes a limited lifetime warranty as well as a 10 year algae warranty.
Malarkey offers 9 color options which can be viewed on their website.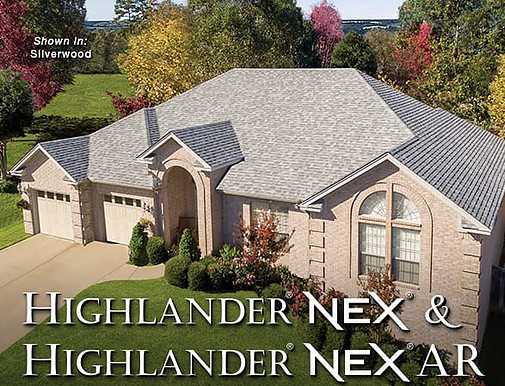 This is Malarkey's most popular shingle which is groundbreaking in its Class 3 impact rating. This shingle can take hail up to 1.5 inch and still retain its warranty. This is one of the first shingles to carry a Class 3 rating. Most impact resistant shingles are Class 4. But this shingle still offers some hail protection yet is simultaneously affordable compared to regular architectural shingles.
Like all other Malarkey shingles, it has SBS rubberized polymer, smog reducing technology, as well as copper infused granules to prevent algae growth up to 12 years.
It carries a limited lifetime warranty as well as a 130 mph wind rating.
This would be a great shingle to install in areas with frequent hail like North Texas. Some insurance carriers will even give discounts for having this shingle.
It comes in 9 colors as well.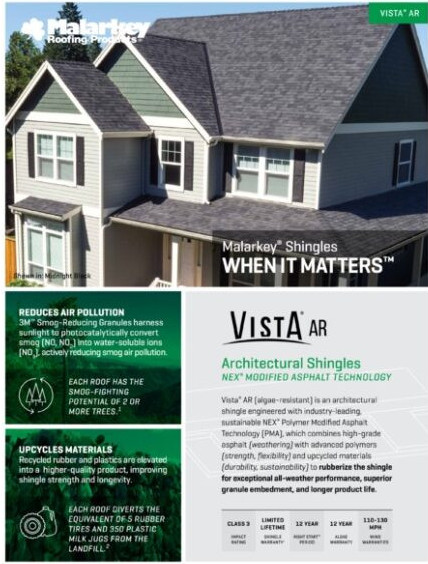 This is Malarkey's highest performing shingle with a class 4 impact resistant rating. Malarkey was only 1 in 4 shingles to score Excellent in Insurance Institute for Business & Home Safety (IBHS) testing of impact ratings.
It has a 130 mph shingle rating as well as limited lifetime warranty. Another great shingle to install in areas with frequent hail.
This is a premium grade shingle that will cost more than the other alternatives, but is worth the price because it protect the home longer and will qualify for insurance discounts in most cases.

3-tab Shingles:
Dura-seal is truly a fascinating shingle because it is a 3-tab with a class 4 impact resistant rating. How Malarkey managed to pull this one off is mind-blowing The whole idea of Class 4 shingles is to be thicker to be able to withstand the force of hail falling from the sky. Yet it is a three tab with a Class 4 impact rating?!
Part of the reason for this impact rating is largely due to being only a handful of 3-tab shingles that is made with SBS rubberized polymer.
It carries a 25-year warranty, 5 year algae warranty, as well as a 70mph wind rating.
We at Luck roofing tend to frown upon installing 3 tab shingles as their wind rating is horrendous. But since this shingle carries an impact rating and has algae resistance just like Atlas Scotchgard warranty, we would consider installing this for low budget clients.
As long as the homeowner doesn't mind repairing a few shingles here and there every couple years because of large wind storms blowing some off, then go for it. This is probably the only 3 tab shingle we would feel comfortable installing.
It also might not be a bad alternative to ridge cap because it can be cut into ridge and still carry that impact rating.
Very interesting shingle!
Designer Shingles:
It is a premium grade shingle that will cost more than a traditional architectural shingle. But it has a beautiful, modern looking profile that stands out. As the rest of Malarkey shingle products, it carries scotchgard warranty (lifetime), NEX smog fighting technology, and SBS rubberized polymer.
This shingle has the highest impact rating of Class 4 like Legacy and Dura-seal, but it has a higher wind rating of 140mph.
A great shingle for homeowners willing to pay more, but getting better performance and a beautiful design.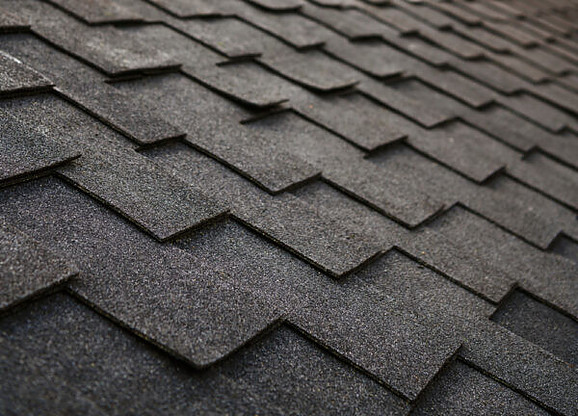 Roof Accessories:
Secure Choice™ 5-Part Roof System:
1) ice and water barrier, 2) underlayment, 3) starter shingles, 4) roofing shingles, and 5) hip & ridge shingles.
Installed together by a certified Malarkey Installer-then the roof is eligble for extended warranties.
Malarkey offers good, better, best options for all their accessory choices. For example, they have 3 different options for underlayment. This gives the contractor the ability to pick and choose which components would work best for a specific roof system. Malarkey's Secure Start Plus underlayment (textured) is good for high slope roofs where walkability becomes an issue and walking on it can cause tears. Yet there is yet another option called Secure Start Plus (breathable) which is great for slate or tile roof systems where mold can build up if the underlayment doesn't have some level of breathability.
Malarkey has two options for ridge camp. Ridge Flex which is standard profile, as well as EZ-Ridge which is high profile. Obviously the hi-profile options will cost more, but it gives a better look to it.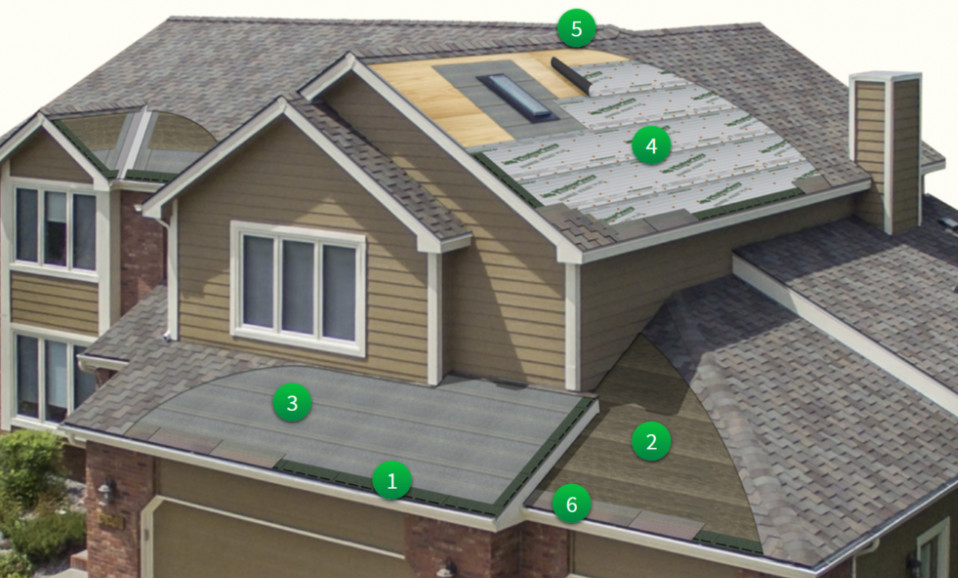 Pros:
Malarkey is a battle tested shingle that has a reputation for groundbreaking technology including the NEX smog reducing technology as well as the first shingles to be made with rubberized, plastics in a SBS polymer fiberglass mat. It is a shingle that has incredible flexibility and durability. All Malarkey products carry algae resistance, as well as lifetime warranties (except for their three tab option).
Yet what makes Malarkey shingles so fascinating is how they have class 4 impact resistant options for 3 tabs, and class 3 options for architectural. Furthermore, there are good, better, best options for all Malarkey's components, including underlayment.
Malarkey also offers 3 tiers of contractor certifications for their products, so Malarkey is very serious about making sure the contractors are certified to install their products.

Cons:
Malarkey can be more expensive than other products and may be harder to come by during product shortages like the supply chain disruptions of Covid-19.
Malarkey's warranties can be harder to transfer from one homeonwner to another during a home sale.
They also have less brand or color options than other lager manufacturers.
Conclusion:
Malarkey most closely compares to Certainteed in its premium grade quality at a higher cost. Malarkey is unique in that it has been a vanguard for new technological advancement in the industry. SBS technology should become the norm for shingles, and Malarkey has moved to make every one of their shingles with this upcycled rubberized polymer.
Malarkey has a big focus on sustainability, which can give more environmental homeowners peace of mind when installing these products.
Overall, we recommend this shingle and would install it on our own homes.