The Number One Reason For Flat Roof Failure Is Not What You Think.
Dear Property Owner/Investor,
There are several reasons why low-slope roof systems are the number one litigated building material for commercial property owners and investors.
Poor Maintenance
Untested/bad materials
Improper drainage
Extreme weather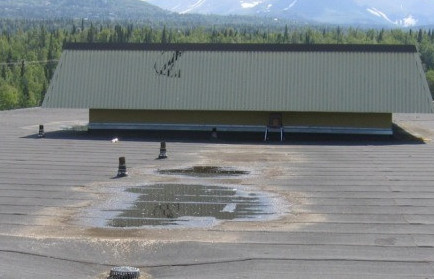 These are just a few contributing factors… Not to forget more long term effects such as acid rain/air pollutants, algae growth, sudden weather fluctuations as when rain falls during a summer storm and the water causes rapid temperature change on the sun-baked roof surface.
All of these hurt the roof system's life cycle, a GIANT liability to the property's value…
But no matter how much these other secondary factors contribute to the roof system's ultimate demise, there is a number one factor that is the actual cause to all these long term effects and resulting symptoms.
Low-slope roof systems have been around for centuries.
But to this day the number one cause for this type of roof failure is still:
Improper installation or poor workmanship.
The roof is the #1 most important part of any structure that keeps tenants/occupants and
everything inside safe and dry.
A well-built low-slope roof system involves many parts and pieces that must be considered not only in terms of its individual components, but also in terms of how those components interact with other components taking into consideration existing architectural/structural designs.
The industry is lagging behind in how to custom fit and cater each roof system into terms of the building's specific needs and standards.
Add recent technological developments and untested materials and it is a recipe for disaster.
Here is why we take a proactive approach to designing a roof system.

What you get when working with Luck Roofing is a streamlined claim process, but also superior workmanship.
This is a huge investment for any commercial property owner, so if you need a contractor who is going to be there for you now and long into the future, feel free to text me at (682) 268-0545. Or you can email me at Mike@luckroofing.com
I will provide you comprehensive photo/video documentation. This is the first step in any claim, ie. reporting the scope of damages to the insurance carrier.
After that, we will discuss the next steps and give you options, regardless if you work with us or not.
Sincerely,
Mike Overzat
Luck Roofing, LLC